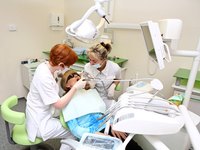 Performing patient-focused duties, such as cleaning, flossing, testing gums and scraping plaque, and administrative tasks, including scheduling appointments and discussing oral health products, dental hygienists are the force behind the dentist in the dental office. These skilled medical professionals train for their careers through associate's degree programs to earn their licenses and places chairside next to the dentists.
Facts
After completing a wages study in 2009, the U.S. Bureau of Labor Statistics (BLS) found the average dental hygienist salary countrywide to be $67,860. Hygienists with higher than associate's degree education might earn more, but a higher degree is not a guarantee of a higher salary. The BLS did find several industries paying hygienists slightly higher-than-average salaries. Temporary employment firms for hygienists paid $68,150 per year, followed closely by outpatient care centers at $68,100 annually.
Location
West Coast dental hygienists earned the highest salaries in the country in 2009. Alaska topped the nation's list with annual hygienist salaries of $96,280. In second place was the state of Washington, paying salaries of $90,140. Coming in third was California, at $87,540, followed by Nevada, at $81,090, and Oregon, at $77,520.
Considerations
The majority of dental hygienists qualify for their jobs with two-year associate's degrees. While four-year bachelor's and master's-level programs are available, they're much less common, in part because the associate's degree satisfies the training and experience required to earn dental hygienist licensing. The American Dental Association's Commission on Dental Education accredits hundreds of dental hygienist associate's degree programs, such as Florida State College at Jacksonville, Henderson Community College, Burlington County College, Texas State Technical College at Harlingen and Southeastern Technical College. Prior to practicing, hygienists take a licensing exam. Exams are not reciprocal; this means that, if a hygienist moves to a new state, she must take that state's exam before obtaining employment.
Outlook
The BLS rates the field of dental hygiene as one of the fastest-growing occupations, expecting 36 percent growth and the addition of 62,900 jobs from 2008 through 2018. The BLS attributes the increased demand for dental hygienists in part to more accessible dental health care coverage along with an elderly population's need for dental services.