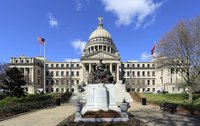 In the United States, each individual state may set its own pay for elected officials. This pay is determined by lawmakers representing the people, and annual salaries are passed as state laws. According to the state government resource site Sunshine Review, Mississippi ranks 28th of all states for governor's salary and 50th for justices. Similarly, the legislature of Mississippi is one of the lowest-paid lawmaking groups in the country.
Executive Branch
Members of the executive branch are responsible for implementing the laws of Mississippi on the state level. The most visible member of this branch is the governor. In 2010, the governor of Mississippi was paid a salary of $122,160. The second-highest paid elected official in the executive branch was the attorney general, with a 2010 salary of $108,960. Both the secretary of state and the treasurer earned $90,000 in that same year. The lieutenant governor was paid $61,714. These amounts make the average 2010 salary for these members of the executive branch $94,566.80.
Legislative Branch
Elected officials in the legislative branch of Mississippi represent the citizens and create state laws. The state legislature is bicameral, meaning that it has two parts. These are the House of Representatives, with 122 members as of 2010, and the state Senate, which has 52 members. Each legislator received a set yearly salary of $10,000. When the legislature is in session, each member also receives $116 per day and is compensated for travel expenses.
Judicial Branch
The Mississippi judicial branch is tasked with interpreting the law and resolving disputes among citizens. At the state level, the judicial branch consists of one chief justice and eight associate justices. In 2009, the chief justice received a salary of $115,390. Each associate justice was paid $112,530. The average for all Mississippi judicial members was $112,847.77.
Local Branches
In addition to the three primary elected branches of the Mississippi government, there are also elected officials at the local levels of the state. These local positions range from members of school boards to sheriffs and mayors. Salaries for these individuals vary widely. Information from the 2008 U.S. Census indicates that Mississippi had 178,394 full-time government employees with a total monthly pay of $536,981,084. This means that the average monthly pay for local officials was $3,010.08, and the average annual salary was $36,120.96.