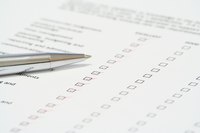 Employee reviews that are populated with goals and objectives agreed upon by employees and supervisors help workers to know what is expected of them throughout the year. They also help employers avoid lengthy court cases, as attorneys may use employee reviews as legal documents if a business owner or an employee goes to court to defend against charges of discrimination or harassment.
Set Expectations
Goals and objectives written in performance reviews let employees know what they must do to achieve satisfactory review scores. Clearly defined objectives do not need verbal explanation. For example, if a line supervisor wants an employee to close five $100,000 customer telecommunications accounts by the end of the year, the supervisor should write this expectation into the objectives section of the employee's review. Provide deadlines or completion dates for project-related objectives. If a supervisor wants a finance manager to create annual budgets for each department she covers by a certain date, he should state this in the review.
Record Achievements
Document achievements employees make throughout the performance review period. If an employee with a goal to close five $100,000 customer telecommunications accounts by the end of the year closed 10 such accounts within the first six months of the year and five additional $150,000 retail customer accounts during the year, the supervisor should document the achievements in the review. This will substantiate the supervisor rating the employee's performance as "exceeded expectations."
Letters of commendation from customers, clients, colleagues and members of the company's senior management team also record achievements that employees make. Employees and supervisors should mention these documents when they complete performance reviews. Because companies often use performance reviews during discussions of promotion, pay raises and employee awards, a review that lists employee achievements helps supervisors to justify rewarding top performers.
Track Progress
Company or organization performance reviews track employee progress. Employees who performed above average one year might show declining performance in the following year. Without performance reviews, supervisors might not notice lapses in a previously stellar performer's work until the employee's performance has dropped significantly. Completing performance reviews on standard cycles, such as quarterly or annually, allows supervisors to document trends in employee performance. For example, if an employee who is frequently late to work at the start of a performance review cycle starts arriving to work on time two to three weeks prior to the end of the review cycle, supervisors will notice that the employee lacks a genuine desire to arrive to work on time and instead is more concerned with a performance rating or review write-up.
Identify Development Areas
If there are gaps between the employee's objectives and their performance, write into the review that an employee would benefit from executive coaching, a mentor or training program. If an employee's stated objective was to create and roll out a new human resources payroll database within eight months with a $1 million budget, but she exceeded the budget by $100,000 and took 10 months to complete the project, she might benefit from attending financial and time management training. Reviews that list areas for improvement as well as suggest tools to foster improvement help prevent employers from receiving charges of discrimination and favoritism.