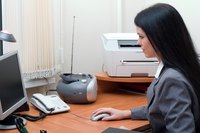 Even during economic downturns, you can secure employment as a skilled professional. Starting a home-based computer business in the field of your passion is one of the ways that you can earn a living. Generally, costs to start a home-based business are minimal (e.g., a computer and a printer). You can use web-based tools like blogs and social networks to build your customer base and increase sales.
Call Center Operator
Contact companies like Alpine Access, Arise, LiveOps and West at Home to sign up to work as a call center operator. You will need a land-line telephone (not a cell phone) and an area where you can take customer calls without interruptions. Services that you would provide customers as a call center operator include answering questions about products or services the companies you work for provide. You might also take orders or provide technical assistance on products customers have already purchased. Companies typically pay call center operators for each minute that they are on the telephone. Pay rates start around the federal minimum wage level, but as you gain experience and get more calls, your earnings will increase.
Web Designer
As more business leaders look to add an online presence for their companies, the need for web designers increases. Creative vision and the ability to work with several different types of personalities; manage your time well; and work with coding, flash, javascripts, a variety of Internet browsers and software packages are necessary to succeed as a web designer. You can create websites across specific industries, such as entertainment or sports, or design websites for artists and business owners across all industries. If you land large clients like Fortune 500 firms, you might find yourself working long hours to design 100-plus-page websites. Negotiate your rates so that you earn enough money to cover the time it takes to create a professional multi-page website.
Writer
Search freelance writing, higher education, technical, entertainment and general job boards to find jobs for writers. You will also need a resume and online portfolio that includes examples of projects you worked on (for example white papers and presentations) to secure freelance writing assignments. Newspapers, magazines, journals and companies seeking search engine optimization (SEO) writers are good places to start working with. Set your rates so that you are paid according to your skill level and the amount of time it takes you to complete certain projects. For example, if a client asks you to write a 10,000 word e-book that includes charts, graphs and research papers, you will likely charge more for this project than you would for a 500-word SEO article. Clients who pay you over $600 a year are required to send you a 1099 form, which you can use when you file your income taxes.
Instructor
Offer to teach web seminars. Subjects that you could cover as an online trainer include book marketing, job interview skills, networking strategies and using social media networks to increase product and service sales. The more experienced you are in the subject areas that you cover, the more credible your trainings will be. All you need is a telephone and a computer to run an online training program. Create press releases and cover letters to reach out to businesses in industries that you have a skill set in. Let them know about the specific services that you offer. Charge reasonable rates so that your business remains competitive with other online trainers. You might consider conducting one or two pro bono training seminars for family and friends when you start your home-based instructor business so you can identify areas that you need to improve in to attract and keep paying clients.