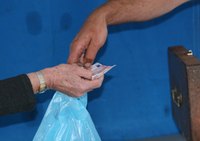 The federal government guards taxpayer money carefully and only awards grants when it benefits the public as a whole or when it goes to a pertinent public interest. Grant money is out there, but you should be careful before paying for information about grants.
Warning
Bogus claims or exaggerations about federal grant money is an old scam, warns the Federal Trade Commission. The federal government will never cold-call people to get them to apply for a grant, nor will they charge people for the application or a deposit for one. Fraudsters will also pressure you into giving up your bank account number or other sensitive information and may use a fake but legitimate-sounding name, such as the "Federal Grants Administration."
How Hard Is It to Get One?
How hard it is to get a grant depends on why you need the money. The government funds the Pell Grant with billions of dollars each year, which is available to anyone who meets the college's need calculation. Usually, grants go to very specific causes or niche industries. The American Dream Downpayment Initiative, for instance, only goes to helping minorities and the economically disadvantaged with down payments and closing costs on a home. Grants are available to businesses but generally only for high-tech breakthroughs not feasible for the typical company, such as cancer research.
Best Resources
If you want to start a business or fund a current one with government grant money, search the federal database at Grants.gov. All U.S. government business grants will appear on this website. The Catalog of Federal Domestic Assistance contains a list of all known federal assistance for all other areas. Most federal grants for businesses carry difficult caveats and hefty requirements, such as paying only for successful breakthroughs and detailed record keeping.
Tip
Much easier to get than federal grants are loans backed by the federal government to start a business. Private lenders receive backing from the SBA to underwrite loans, which means they are easier to get and have lower interest rates than most traditional business loans. Also, consider relatives that might lend you money. Most businesses only need a few thousand to get off the ground.