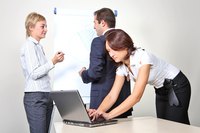 Employee development is important for the company, the teams and departments within the company and for the individual employee. Employee development is used to push the employee's capabilities and work knowledge to produce better results. These results reflect positively on the department and can essentially be a positive result or income for the business itself.
Improving Business
Employee development programs are used to improve the individual talents of the employees to benefit the business as a whole. Teaching and pushing the employees to test their talents and creativity can result in effective marketing planning and product development ideas, for example. Having these benefits from employee development can result in a competitive edge against direct competitors in the areas of pricing, product development, distribution and customer service, for example.
Teamwork
If all employees participate in employee development programs, all workers should be contributing their best in projects or team collaboration tasks. The purpose of employee development is essentially to produce the most effective work by having motivated employees working together to complete projects or tasks. If workers are effectively feeding off each other's motivational drive, they may learn from each other and be more willing to contribute their ideas and thoughts in a teamwork setting.
Individual Development
Employee development is also important for the individual employee. As the employee tests herself and her abilities, she may learn more within the company and become qualified to complete more complex tasks. This could potentially lead to promotions and recognition in the company. For example, the employee may be promoted to a customer service manager from a customer service representative position. This may also lead to a boost in self-esteem and personal satisfaction, as the employee may realize that she has more potential than she originally thought.
Development Plans
Employee development plans and programs differ greatly depending on the type of business using them to motivate employees. However, employee development plans often include setting employee goals, preparing the employee for changes, making a methodological list of strategies or ways to reach these goals and making a schedule of things the employee needs to do to reach the goals. During the development training, the employee should be evaluated in terms of staying on track and progressing. Getting positive feedback through the employee development plans may create a level of confidence in the employee that was not present prior to starting the employee development program.