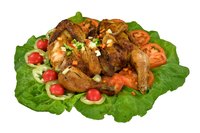 Personal chefs remove the burden of planning, shopping and preparing a meal from their clients who are hosting dinner parties or other social events. You may go into your client's home to prepare a meal or a facility that you client rents for their event. Many personal chefs operate their own businesses so business classes along with culinary courses tend to increase your chances of financial success.
Income
In 2011, the hourly rate for personal chefs ranges from $14.68 to $29.32, according to PayScale. Tips range between $1.70 and $1.65 per hour. Overtime ranges between $19.47 and $34.80, and bonuses range between $502 and $4,869. The total annual pay ranges between $31,063 and $64,016.
Work Schedule
A personal chef's wages can be comparable to a restaurant executive chef's wages according to PayScale, but the personal chef can have a more manageable work schedule and work fewer hours. A chef working for private clients may only work three to five hours a day instead of the up to 15 that a restaurant chef will work.
Low Stress
Personal chefs typically have low-stress jobs. In almost all circumstances, you will know the menu and number of meals you need to prepare ahead of the event, leaving you with time to prepare and cook without feeling rushed.
Tax Advantages
As a self-employed business owner, you will be subject to the self-employment tax from the Internal Revenue Service, but your benefit from additional deductions will offset that tax. You can write off any business expenses including portions of your home expenses, utilities, automobile expenses and insurance.
Flexibility
Personal chefs often design their own menus in conjunction with their clients. This gives you the ability to expand your creativity and produce new recipes. Restaurants chefs may only be in charge of a certain course of a meal, but as a personal chef, you will prepare all of the courses, providing you with many opportunities to allow your talents to grow.