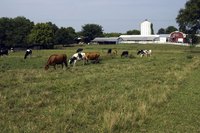 With entire departments of grocery stores devoted to dairy goods, dairy farmers have no trouble convincing the general public to buy their goods. The earnings of a dairy farmer and the price of milk and cheese in the supermarket are greatly disconnected from one another, with distribution costs, packaging, resllers and production costs all factors that reduce a dairy farmer's profits.
Dairy Farmer Salary
Earnings for dairy farmers may vary widely depending upon several factors, such as the size of their operations, whether they own or lease their land and whether they're independent or employed by a larger dairy-producing firm. The average annual salary for dairy farmers is $38,000, with many earning between $24,000 and $49,000 per year as of January 2011, according to KayCircle. Simply Hired lists the average salary for dairy farmers as $134,000, although that figure may be gross income rather than net profits.
Comparison to Other Agricultural Workers
The average agricultural manager earns $775 a week as of May 2008, according to the Bureau of Labor Statistics' Occupational Outlook Handbook, which equates to yearly earnings of $40,300. Half of all agricultural managers earn between $29,640 and $65,988. Dairy farmers who earn $38,000 annually receive earnings that are equivalent to 94 percent of the average salary for farmers, ranchers and other agricultural workers.
Dairy Worker Salaries Around the Country
The average earnings of dairy workers vary depending upon the region of the country in which they work. The high cost of living in New York helps keep salaries in that region high, with average salaries of $32,057 as of January 2011, according to Salary Expert. That salary level was unusual, however, with the workers in the second-highest earning city, Chicago, receiving salaries of $25,814. Dairy workers in Phoenix earned the smallest average salary of $16,787. Of the cities Salary Expert surveyed, 80 percent reported average annual earnings for dairy workers below $24,964.
Necessary Skills
Dairy farmers do more than just hook up their livestock to milking machines. They must keep careful records on milk production and feed consumption as well as maintain the health of their herds. Like other agricultural workers, dairy farmers must be skilled with tools to perform maintenance and repairs on equipment and facilities.