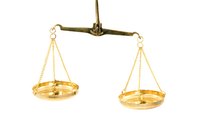 Profit consists of money left over from a business's income after all expenses have been taken into account. A loss occurs when a company's total expenses exceed its total income. Companies that match their income and their expenses exactly are said to "break even". Earning a profit or incurring a loss has company-wide effects on a business organization, and entrepreneurs should always have a plan for reaching and maintaining profitability.
Organic Growth vs. Outside Financing
Companies can fund expansion plans in one of three ways. They can either use retained earnings—profit that has been saved--borrow money from lenders or rely on funding from investors.
Companies that regularly earn profit can save their money in interest bearing accounts and use it to fund growth strategies such as research and development, marketing campaigns and penetration of new markets. Companies that regularly incur a loss are more likely to rely on lenders and investors to fund growth. Relying on outside financing is more expensive than using retained earnings, since companies pay interest, fees and dividends for loans and investment.
Dividends and Profit Sharing
A company's propensity to earn profit or incur loss can affect its treatment of stockholders and employees. Companies with a higher net profit are more likely to pay increasing dividends and share profits among employees in the form of bonuses, incentives and benefits. Companies that regularly incur a loss are more likely to have to console stockholders and employees by assuring them that sacrifices across the board are necessary to reach profitability.
Lenders and Investors
A company's pattern of profit or loss can determine which types of lenders and investors are interested in doing business with the organization. Different investors and lenders favor different types of risk. Some investors are looking for healthy, mature companies that can be relied upon to pay bondholders' interest and coupon payments and stockholders' dividends, for example. Others may be specifically looking for weak companies to acquire and sell off in components.
Some lenders are looking for A-grade borrowers who will never miss a payment. Other lenders are specifically looking for borrowers with bad credit and weak finances so that they can charge premium interest rates and numerous account fees.
Sustainability
Companies can swing back and forth between profitability and loss from year to year, and newer companies often incur a loss for several years before they reach profitability. When all is said and done, however, profitability is absolutely crucial to business success. If a business brings in more money than it spends over the long term, its chances of success are greatly enhanced.