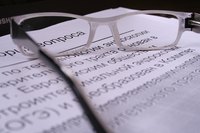 Business letters are written in a professional tone and often in third person. The conclusion and closing of the business letter must also be written in a professional manner. While some choose to simply write their names as a closing, others choose to write a formal closing before adding a signature. Choose the right closing, as some are more personal than others.
Know When to Stop
According to the Old and Sold website, many writers who write business letters do not know when to stop adding nice comments in the closing paragraphs. Examples include using the words "hoping" and "trusting" in a way that exaggerates enthusiasm in a letter. These are often added even though the letter itself is strongly and professionally written in a clear and concise tone. The general closing word should be your friendly end and conclusion to a professional business letter.
Closing Phrase
The closing phrase in a business letter is the single phrase or word that the writer uses before signing his name on the letter. Common examples include "yours truly" or "sincerely." This is added on a single line before the signature is placed on the business letter. Business letters should not be signed with a personalized closing phrase, such as those that include the word "yours," including "yours very respectfully" or "cordially yours." According to the Old and Sold website, these personalized closing phrases are considered stiff for ordinary business correspondence. Some might even consider these to be too formal.
Examples of Closing Statements
Other professional and respectful closing statements include "kind regards," "best regards," "warmest regards," "kind thanks" and "with appreciation." If you know the individual you are writing to but want to keep it formal and professional, use the examples presented in the previous section.
Choosing the Right Phrase
As you choose your closing phrase, choose one that suits the tone of the letter and the relationship to the person to whom the letter is addressed. For example, do not use "sincerely yours" on a business letter if you do not know the person you are writing to. In addition, do not use the same closing line if you have started the letter with a formal salutation such as "Sir." The closing should have the same formal tone as the opening salutation.