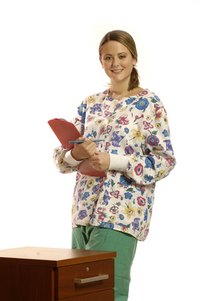 Caring for patients all over the Garden State's turnpikes and parkways, nurses in New Jersey help people recovering from illness, injury and surgery. Nurses make up the largest contingent of health care professionals -- with registered nurses being the largest occupation of all -- and work out of hospitals, doctors' offices, schools, clinics and rehabilitation centers. New Jersey's nurses earned salaries higher than the country's average for all nursing specifications.
The Facts
While each nursing specialty has a variety of educational, clinical and training requirements, the state stands ready to provide licensing and degree programs for prospective nurses. According to the National League for Nursing Accrediting Commission, more than 30 accredited schools are available in-state, including Essex County College, New Jersey City University, Ocean County College, Thomas Edison State College, Salem Community College and Atlantic Cape Community College.
Registered Nurses
New Jersey's largest contingent of nurses is registered nurses (RNs), totaling approximately 74,730 as of May 2009. The state's average salary for RNs is $74,560 per year, which compares favorably to the nation's average for the profession, $66,530, a difference of $8,030 per year. RNs in the Garden State's top level of earners took in an average of $98,920 per year, while their counterparts in the bottom 10th percentile averaged $54,870 per year.
Licensed Vocational/Practical Nurses
For licensed vocational and practical nurses (LPNs and LVNs) in New Jersey, the state's 15,530 medical professionals averaged an annual median wage of $50,400, significantly higher than the country's median of $40,900, or $9,500 more per year. LVN salaries ranged widely, with the bottom earners averaging $39,110 per year and the highest level LVNs taking in $63,290.
Nurses' Aides
The 49,540 nurses' aides in New Jersey also fared slightly better than their counterparts across the country. Nurses' aides in New Jersey averaged a median salary of $26,120, compared to the nation's $24,980, a difference of $1,140 per year. At the high end of the salary scale, nurses' aides averaged $34,650 and at the bottom end, salaries averaged $20,730.