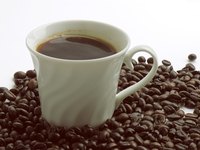 Many entrepreneurs think about opening a coffee shop or cafe because these small businesses are favorites with all types of customers, and they can be successful in both small and large cities alike. If you are starting this type of business, there are many ways you can draw in new customers and generate revenue.
Coffee and Food Pairings
One way to get customers to spend more money, as well as add value to your small coffee shop, is to pair your drinks with different types of food items. According to Serious NY Eats, coffee is similar to wine because it can bring out specific flavors in food. You can pair your morning coffee blends with yogurt, fruit and breakfast pastries. Pair afternoon lattes and coffee with sandwiches and salads in the afternoons and offer muffins and baked goods throughout the entire day. Some coffee cafe owners advertise featured pairings of the day that highlight specific blends with items from the deli case.
Special Events
Draw in new customers by holding special weekly or monthly events. For example, if your target client base is full of dog lovers, you can feature a monthly "bring your dog" event, according to Meridian Coffee House. For this type of event, you'll most likely need an outdoor patio space as well as doggie treats to offer your new guests. Other special event ideas may include kids' tea parties one afternoon a week or a monthly singles event around the normal happy hour time.
Promotions
Generate more revenue through promotions. According to Coffee Info, some cafe owners can make more money by offering specials such as free refills. This type of promotion may draw in customers who wouldn't have come in without it. Other promotional ideas include loyalty cards, which encourage customers to come in often, and seasonal specials. If you already sell food in your coffee shop, start a promotion that offers a discounted rate on a muffin with the purchase of a full-price drink.
Miscellaneous Ideas
Most large-chain coffee shops offer free wireless Internet access, so work with your local Internet business to offer the same service to your customers. Partner with local artist groups, such as poet or musician groups, and invite them to meet once a week or month at your small coffee cafe, which gives them a place to practice and exhibit their talents as well as provides free entertainment for your customers.