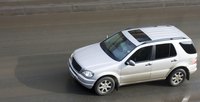 Among the categories of auto insurance coverage, comprehensive coverage protects your vehicle against fire, theft, acts of nature and fowl incidents. If your vehicle's glass is damaged during one of these events, the cost of the glass repair is included in the claim adjustment. Glass damage can occur without an accident or event. If this occurs, comprehensive coverage will insure the glass damage, as will comprehensive glass insurance.
The Difference
General comprehensive coverage includes a deductible that the policyholder pays if he files a claim. The deductible amount is subtracted from the amount the insurance company pays towards your vehicle's damages. If you have comprehensive glass coverage, however, the deductible is waived when the vehicle's damage is limited to only the glass. Therefore, the insurance company pays the entire amount for the glass repair.
Selection
While most insurance carriers offer comprehensive coverage, not every carry offers comprehensive glass, or full glass, coverage. If glass coverage is not available, you may be required to pay your deductible for a glass claim, just as you would with any other comprehensive claim. Some carriers that do not provide full glass coverage will waive the deductible on certain glass claims. Ask your insurance agent about glass coverage options and review the details in your insurance declaration document.
Premium
A slight difference in premiums between a comprehensive option and full glass option is possible. The difference in premiums depends on the specifics of the policy and the deductible you select. Although no deductible for glass damage is required, you still must select a deductible amount for the comprehensive portion of your policy.
Example
When determining the difference between comprehensive and comprehensive glass coverage, consider the possibilities. For instance, say you carry a $500 comprehensive deductible without glass coverage and have glass damage to your vehicle. You visit the glass repair facility and the representative tells you that the glass repair will cost $455. If you were to file a claim, the insurance carrier would not pay towards the glass repair because the cost would be under the $500 deductible. If the repair cost $550, the carrier would pay $50 towards the repair. In both situations, a comprehensive glass policy would cover the entire amount of the repair and you would pay nothing.