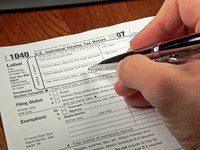 If you used Intuit's TurboTax software to file your 2009 taxes, you can also use it for the 2010 tax year. Though the software turns your traditionally paper-based tax forms into digital documents called PDFs, you still need to retain a copy for your records. The online version of TurboTax stores a copy on Intuit's Internet servers, while the desktop version stores a copy on your computer. You can use that previous year's tax information to carry on with your tax filings for the following tax year.
Online Version
If you prepared last year's taxes using the online version of TurboTax, then you also set up an Web account. You can click on the "My Account" link on Intuit's TurboTax website to arrive at the log-in page. After you log in using last year's user ID and password, the TurboTax website will automatically transfer last year's data. If there are no compatibility issues, you will find that much of your information from the previous year, such as name, address and W-2, will repopulate the current tax returns. You should note that if you filed using the "Tax Freedom" version, then it will not transfer to this year's version.
Desktop Version
You can continue using the desktop version of TurboTax on the same computer from last year. Start by making sure you have installed the updated version of the software. Open the program and click on "Start a New Return" button or choose "New Tax Return" from the "File" menu. Select last year's return when you see the screen entitled "Let's Get a Jumpstart on Your Taxes." Follow the instructions to complete the process.
Automatic Renewal
You may want to consider subscribing to Intuit's TurboTax Advantage program. This automatic renewal service will notify you next year when the newest version of TurboTax is released to the public. You will also receive automatic subscription to your software, possibly discounted, and charged the direct-from-Intuit price. You will need to set up an account if you don't already have a user ID and password.
Archive
Not only can you use TurboTax every year, but you can also use it throughout the year and over a span of years. If you frequently use the online version, you will find that your return will show up on your account, though the filing season has passed. If you need quick access to your returns or have lost your personal copy, you can log into the website and retrieve the archived documents. If you use the desktop version, the files are saved to your hard drive. Also, some aspects of your tax filings, such as depreciation, carry over into the following years, and you might find it helpful to pull up previous years' returns.