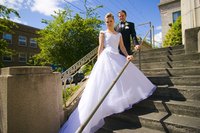 The event planning business can call for a unique business structure, given the wide array of personnel demands an event planning company might encounter. Some event planning companies focus on organizational aspects, such as booking, organizing and deploying subcontractors for events like weddings or corporate seminars. Other event planning businesses are more niche-focused and may require specialized personnel and a larger full-time staff
General Event Planning Business Models
Event planning business models are well-suited to a low overhead, smaller scale business structure, where either a single individual or a small group oversees the hiring and direction of temporary contractors to meet the needs of short-term projects. The most widespread type of event planning company is a wedding planning company business, which can be found in virtually any city around North America and are rarely short of business, since weddings are one event that is constantly in demand. These smaller types of general event planning businesses are ideally suited to smaller or medium scale events and benefit from having a tight network of preferred contractors to perform services such as catering, security and bar tending, as well as providing ambient music for some of the event.
Delegation and Organizational Size
As an event planning business grows, the role of internal management shifts from overseeing individual events to managing categorized event groupings within internal staff. For example, one team in a larger event planning company might be focused on wedding planning, whereas another division might be focused on providing business seminars; these two distinct sub aspects of the same business have different technical requirements as well as some skill overlap, meaning that the composition of each team should be somewhat different. In terms of team composition, typically a business seminar team will require a technology specialist to facilitate such devices as projector equipment and audio equipment for keynote speakers, whereas weddings or musical events will have a greater emphasis on food, drink and music. Private events, such as weddings, and public events, such as music festivals, also have differing requirements, such as the fact that outdoor music festivals typically necessitate a higher level of security presence to ensure that laws regarding liquor consumption and public behavior are enforced and all patrons can enjoy themselves, whereas weddings, on the other hand, are for the most part self policing.
The Importance of Knowing Event Hosting Laws
When an event company expands into facilitating events that are beyond small-scale private functions, they will require a legally backed knowledge of local laws relating to public events in the area the event is taking place. Common considerations are a requirement for security, stand-by paramedics and even physical barriers for differentiating a beer garden from a general fairground, should local laws require them to do so. Having a consulting lawyer as part of an event planning business structure is recommended to avoid breaching local laws, particularly if the company operates in more than one city, state or country at the time.
Event Planning Business Structures and Profitability
Event planning can be a lucrative business when conducted at the individual entrepreneurial level, focusing on small to medium events; however, the greatest margin for profit is in hosting large-scale celebrations which draw massive crowds and generate significant food, beverage and ticket sale revenues. Event planners who learn to delegate tasks to reliable subordinates will typically enjoy greater profits than are possible through their singular efforts alone.