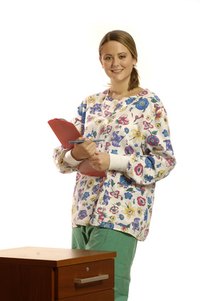 There are approximately 2.6 million job opportunities for registered nurses (RNs) in the United States, according to the U.S. Department of Labor's Bureau of Labor Statistics, and demand for RNs is expected to increase by 22 percent between 2008 and 2018. U.S. News & World Report ranked registered nursing among its Top 30 Best Careers 2009. Candidates who wish to become registered nurses have a number of educational pathways to choose from.
Licensure
Every state in the Union and the District of Columbia requires registered nurses to be licensed in order to practice within the state's jurisdiction. Licensure requirements may vary from state to state as determined by the state's board of nursing, but all states require candidates for licensure to complete an approved nursing curriculum from an accredited institution. Candidates must also pass the National Council Licensure Examination-Registered Nurse, sometimes referred to as the NCLEX-RN.
Bachelor's Degree
There are three educational pathways that can lead to licensure as a registered nurse. One pathway involves obtaining a bachelor of science degree in nursing (BSN) from a traditional four-year college or university. The first two years of a BSN program typically involve coursework in traditional liberal arts studies such as history, mathematics communications, English and the basic sciences such as chemistry, biology, anatomy and physiology. The final two years are focused on nursing-related studies and include both classroom instruction, laboratory work and hands-on clinical practice in real world environments such as hospitals or nursing care facilities.
Associate Degree
Many community colleges, junior colleges and vocational institutions offer associate degrees in nursing (ADN) programs. These programs can typically be completed in two to three years. Coursework focuses primarily on nursing studies in classroom, laboratory and clinical environments, and places less emphasis on non-nursing-related studies. Students who graduate with an ADN are eligible to sit for the NCLEX-RN. Many students opt to complete their ADN and work as a registered nurse while working toward their BSN.
Diploma Programs
Some training hospitals offer diploma programs for nurses. These programs offer students the best opportunity for hands-on training, as much of the coursework occurs on the premises of the hospital. Hospital-based diploma programs typically take between two and three years to complete. Candidates who earn their nursing diploma are eligible to sit for the NCLEX-RN examination. There are fewer than 100 diploma-granting nurse training programs in the United States as of 2010, according to AllNursingSchools.com.