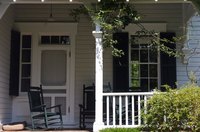 Buying a home or property that has gone or is going through foreclosure is a good way to buy property at a discount. Unfortunately, homes that are going through a foreclosure often come with a lot of baggage. Before you take the plunge, save yourself a lot of time, money and frustration by researching the market and the homes in which you are interested to determine if buying a foreclosure is really for you.
Preforeclosure
Buying a home in preforeclosure is one of the riskier ways to purchase a home because you are still negotiating with the homeowner -- not the bank. The homeowner may lie to you about the condition of the home, may have liens against the property and may not have paid the property taxes for who knows how long. Before buying a property that is in preforeclosure, check your state's laws regarding purchasing a home from a homeowner occupant who is in default on a loan. It's possible that he is not even legally allowed to conduct a sale. Make sure when dealing with a preforeclosure that you get a sales agreement, go through escrow, get the right inspections and look at the property for yourself.
Auctions
An auction can be the riskiest place to purchase a foreclosure because you have no agent or broker to help you. Many new home buyers go to auctions in the hopes of getting a good deal and end up in a huge money pit. At an auction, inspections are not required, so your new property may need a roof or foundation work; could be filled with mold or pests or be completely stripped of its fixtures. The heat, air conditioning or plumbing may not work. If the property is still occupied by a tenant or the previous owner, you may have to go through the eviction process. In some cases, the former owner can even sue in an attempt to overturn the sale.
Real Estate Owned (REO)
An REO is also known as a lender-owned property and is the least risky foreclosure to buy, but it still carries some risks. If the home isn't sold at auction, the bank will need to get rid of the home. Often, the bank won't simply give it away, as some buyers think a bank should. The bank can take as long as it wants to respond to an offer. After you submit an offer, however, you can get an inspection and arrange for title insurance. Because of these options, it is safer, Christine Dugas writes in "USA Today," than an auction. However, because the lender can take as long as it likes to respond to an offer, the house can fall into further disrepair. Problems -- like mold -- can get worse; pipes can break in an unheated home over the winter and the home can be broken into or lived in by squatters.
Property Issues
Understanding different property issues can make a foreclosure either more risky or less risky. For example, a home that is structurally sound is often a good investment no matter how many cosmetic fixes it may need. If a home is in a good location and only needs things like drywall, landscaping or other fixes, then you may want to take the risk. However, complete overhauls of electrical systems, heating systems, roofing or foundation work can be overly expensive and not worth it, especially if the neighborhood is less than desirable. Sometimes a former owner is simply trying to escape looming bills like property taxes or other liens. You have to determine for yourself if the risk of having to pay someone else's creditors is worth it to you.