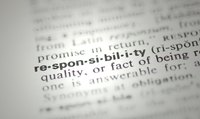 The concept of corporate citizenship, also known as corporate social responsibility, proposes that businesses have a responsibility to the community in which they operate and to society in general. Typically, corporate citizenship includes several areas of responsibility, such as economic, legal, ethical, philanthropic, and environmental areas.
Corporate citizenship means doing business not just to meet the needs of owners and stockholders, but to incorporate the interests of all stakeholders in business operations including, employees, customers, the community and the environment. A responsible corporate citizen is a business that operates in an ethical manner and supports the interests and concerns of the community in which it operates.
Stockholders and Stakeholders
There are two key interest groups in many businesses, stockholders and stakeholders. Stockholders, including owners, have a financial investment in the business – they own a piece of the business. On the other hand, stakeholders may or may not own a piece of the business. A stakeholder is any person or group who has an interest in the business. They may be internal, such as employees and managers, or external, such as customers, residents in the area, regulatory agencies, suppliers, distributors and community groups. A good corporate citizen has responsibility to all stakeholders, including stockholders.
Free Market Model
In the free market model of business, good corporate citizenship is the result of generating profits for owners and stakeholders. To that end, the business produces as much as possible at the lowest cost possible. In this model, social development, improved health, effective resource management, education, and other social and community issues are driven by business. Simply stated, a business is a good corporate citizen when it is successful and when the business succeeds the community succeeds.
Corporate Citizenship as Profit Model
In another model, businesses choose to be good corporate citizens because it increases profits. This is sometimes called enlightened self-interest. According to Anita Roddick, founder of The Body Shop, "being good is good for business." Displaying up Save the Whales posters in its store windows did not immediately lead to more sales for The Body Shop, but it created interest in the community and bolstered the company's reputation. Good corporate citizens have a good reputation in the community because they work to balance and meet the needs of various stakeholder groups. In addition, they have lower employee turnover, reduced risk and liability, along with improved efficiency because they improve their processes and reduce waste.
Multiple Equal Goals Model
In a third model of corporate citizenship, a business has environmental, social and profit goals, all of which are equal. Profit does not take precedence over the other two. Typically, these types of businesses are privately owned by entrepreneurs, philanthropists or environmentalists. Corporate citizenship and social responsibility drive the company's operations, including marketing and sales. For example, Newman's Own donates most of its after-taxes profit to educational and charitable causes. The business exists not only to provide a product or service but to support and improve the community.