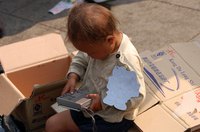 The Congressional Budget Office reports that foreign aid benefits poor countries with low standards of living, high rates of population growth and dependence on agricultural production. Foreign aid reduces infant mortality, population growth, illiteracy and supports human rights. According to a report by Vu Minh Duc, "Foreign Aid and Economic Growth in the Developing Countries -- A Cross-country Empirical Analysis," South Asia and the Sub-Saharan Africa account for the largest proportion of poor people in the world requiring foreign aid.
Post World War II Economic Benefits
After World War II, foreign aid was effective in helping to rebuild Europe by providing the basic necessities of food, clothing and medicine to countries devastated by the war. It helped prevent starvation and disease, reducing polio and smallpox, and increased life expectancy. Foreign aid assisted Western European countries in rebuilding their economies and elevating their standard of living.
Political and Military Benefits
Foreign aid provides military assistance to foreign governments, including the Middle East, Egypt and Israel, to purchase military equipment from the United States, as well as for international military education and training benefits and peacekeeping operations. Political and security interests have dominated the allocation of U.S. foreign assistance since the end of World War II, according to the Congressional Budget Office. Developing countries that are politically or strategically important have received generous support of foreign aid.
Infrastructural Development Benefits
Infrastructural development and social and economic growth are the results of the benefits of foreign aid through funding for transportation, bridges, irrigation, educational development, electricity for energy and digital network communications for worldwide business transactions. "Derkeiler.com," an Internet newsgroup, states that in Cambodia, a large percentage of foreign aid finances technical expertise. Japan and South Korea are examples of well-planned foreign aid moving economically weak countries up the ladder of economic development.
Expertise and Personnel Benefits
China, the world's second largest economy, continues to receive foreign aid and is also in a position to provide foreign aid to developing countries, according to Wu Gang, editor of "Global Times." China uses the aid it receives to benefit rural development, paying foreign experts and delivering technology in China or training Chinese abroad. Today, most of the aid is used for expertise and personnel. Donor countries benefit as foreign products gain publicity in the Chinese market, which establish both economic and political relationships with China.