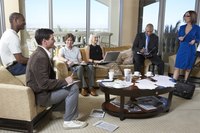 In the quest to beat the competition, business owners and managers often overlook the possibility of collaborating. Successful business collaboration entails cooperative strategies to achieve a common goal among groups that are frequently not accustomed to working together. This can involve either separate companies or internal departments within the same company. As entrepreneur Jay Bernstein observed in a February 2014 article on the Fox Business website, "Collaboration saves time, saves money, and levels the playing field for American companies."
Tapping Online Networking Potential
In a business world where an online presence can be critical to success, you should examine collaboration strategies that tap your networking potential. John Jantsch has referred to this as the "Collaboration Universe," because it involves so many partners that you and your company can now collaborate with effectively via an online network — staff, suppliers, customers, prospects and competitors. Once you have acquired some social media expertise, you will be in a position to collaborate with multiple groups. This business collaboration strategy can involve little or no cost in many cases. For example, several companies with similar inventory requirements can combine purchase orders to obtain wholesale pricing.
Leading by Example
Without direct and active involvement by the owners and executives of a company, effective collaboration will be difficult to achieve. Leaders are indispensable change agents — and collaborating with another department or company often represents a monumental change. Do not expect collaborative behavior to thrive unless your senior leadership team is totally supportive in terms of what they do and say about collaboration.
Empowering Employees
Business owners and managers need to learn to "get out of the way" when it comes to successful transformation processes involving collaboration. Many business executives have learned the hard way that policing employees and enforcing rules is rarely an effective way to encourage collaboration. While you can define "best practices" and guidelines, empower your employees to do the heavy collaborative lifting after that.
Chief Collaboration Officer
Very few companies have an officer with the title of chief collaboration officer — the Motley Fool is a public example of one that does. Whether your company uses a title like this or not, the key strategy to be used is creating a supportive permanent environment for collaboration. For example, annual performance reviews could determine a portion of annual bonuses by recognizing how well employees collaborate with each other.
Persistence and Patience
Collaboration is not a short-term fix. It is not unusual for collaborative efforts to fail in early attempts. Collaboration frequently takes longer than initially estimated to demonstrate the desired outcomes. Without a strong dose of patience and persistence, many attempted business collaborations are unfortunately doomed to failure. Flexibility can also help — adapting and tweaking the strategy as you move forward along a collaborative path.