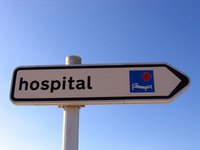 Custodians, commonly known as janitors, keep a building clean and orderly. Job prospects should be good through at least 2018, according to the U.S. Bureau of Labor Statistics (BLS). About 17 percent of custodians work in hospitals and residential care facilities. Custodians working in hospitals generally earn a bit more than the average salary for this occupation.
Job Features
Hospital custodians have a variety of cleaning and maintenance duties. They mop floors, shampoo carpets and rugs, wash walls and windows, clean bathrooms, replace bathroom supplies and empty wastebaskets and garbage cans. Some fix leaking faucets and do carpentry work, and some mow lawns and clear away snow from sidewalks and building entrances.
Salary by Experience
Entry-level custodians do not need education beyond high school. High school shop classes and experience in repair work is helpful. The median starting pay range for all custodians as of December 2010 was $7.50 to $11.70 per hour, as listed by the PayScale salary survey website. Those with one to four years of experience were making $8.90 to $13.20 per hour, and those with five to nine years of experience, $10 to $15.70 per hour.
Salary Range
The average salary for all custodians as of May 2009 was $11.60 per hour, or $24,100 per year, according to the BLS. The middle 50 percent of those on the earnings scale had hourly pay rates of about $8.60 to $13.50, and the top 10 percent were making over $17.50. Hospital custodians had an average salary of $12.26 per hour, or $25,510 per year. In comparison, custodians working in building services were making about $10.30 per hour, in universities and professional schools, $12.70, and for elementary and high schools, $13.50 per hour.
Employment Outlook
Although the occupation of custodian is likely to have slow job growth for the near future, more jobs will be available in hospitals and other health care facilities, notes the BLS. The health care industry is expanding, and large medical facilities need teams of custodians. In addition, there is a lot of turnover in this job, creating a need for workers. Only 38 percent stick with the occupation for 10 years or more, and only 11 percent for 20 years or more, according to PayScale.