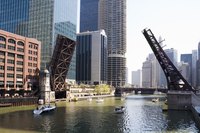 Real estate agents must work with a licensed real estate broker. Most agents make the bulk of their earnings through commissions while working on a contract basis. Employment and earnings are sensitive to the local economic situation, and earning levels also tend to be associated with experience. Real estate agent income in Chicago, Illinois, is generally lower than the national average as of 2010.
Features
Real estate agents receive a portion of the broker commission whenever the agent sells a property or whenever a listing obtained by the agent is sold. If an agent obtains a listing and also sells that property, he makes a larger commission. Although gaining a job or contract with a broker may be relatively easy, beginning agents face competition from other real estate agents who have been in business longer and have a solid network of contacts. As with most professions, well-established and experienced real estate agents tend to earn more than beginning agents.
Income by Experience
All states and the District of Columbia require real estate agents to be licensed. Aspiring real estate agents must have a high school diploma or equivalency, be at least 18 years old and pass a written state examination. Most states also require licensing candidates to complete 30 to 90 hours of classroom instruction. Many brokerages prefer their agents to have at least some college background. A beginning real estate agent may have months go by without making a sale, and should plan accordingly. Median nationwide starting income for real estate agents as of December 2010 was about $26,500 to $49,800, notes the PayScale salary survey website. Once they have one to four years of experience, the median range increases to about $29,800 to $60,000 per year.
Chicago Salaries
The median income for a real estate agent in Chicago is about $36,000 as of December 2010, according to Salary.com. Those on the middle 50 percent of the earnings range make about $35,000 to $45,800. The bottom 10 percent have incomes under $34,400, and the top 10 percent can earn more than $54,600 per year.
Comparisons
Average income for real estate agents nationwide is about $53,000 as of May 2009, as reported by the BLS. The middle 50 percent of those on the earnings scale make about $27,400 to $63,500, with the top 10 percent earning over $96,400 per year. Vermont was the most lucrative state for real estate agents in 2009, where they had an average income of $85,550. While Chicago salaries for real estate agents are generally low, those in some metropolitan areas fare worse. In Myrtle Beach, South Carolina, the average real estate agent income is about $35,700 in 2010, and in the Gainesville and Sebastian metropolitan areas of Florida, the average real estate agent income is about $29,000.