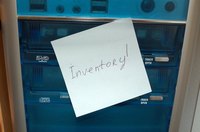 Managing inventory is an important part of maintaining your company's profits, according to the inventory experts at the Retail Owners Institute website. Bad inventory control can lead to a series of problems that will cost you money. Understanding how poor inventory control practices can damage your business can help you to understand the return on an investment in a proper inventory-control system.
Fulfillment
Without a proper inventory-control system your company will be unable to fulfill orders efficiently. Customers could be waiting for orders that they understood to be in stock but, in reality, cannot be fulfilled for days or weeks. This also causes a problem with your order fulfillment system as orders that can be completed get mixed in with requests that cannot be satisfied in the immediate future. Your sales people will become frustrated, your order-entry system goes into chaos and your customers may stop placing orders.
Overstocking
One of the key responsibilities of a good inventory-management system is to help cycle inventory in and out based on historical needs. A bad inventory management system will cause products to be ordered that the company does not need, and those products becomes excess inventory. The excess inventory gets taken off your company's bottom line during an inventory audit and can cause your company to lose money.
Margins
When you hold on to old product too long, you can often miss out on restocking products at a lower cost to the company. A poor inventory system may not indicate the cost of items that are sitting on your shelf. That will not alert you on when it is time to try to move that inventory by either reducing the selling price to your clients or returning it to the manufacturer. You will not be able to stay up on price changes that can greatly affect profit margins.
Damaged Product
An efficient product-tracking system monitors returned product and prevents it from reentering the inventory. A bad inventory-control system does not have a detailed tracking system for damaged or returned product, and can allow product to be put back into inventory that requires quality-control measures. Damaged or returned product that gets back into live inventory can cause you to lose clients as they start to question why you are shipping them defective product.