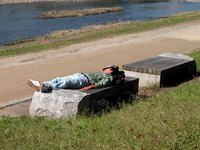 If you come back to your apartment to find an eviction notice stuck to the door, do not fret. While eviction notices need to be taken seriously, your situation might not be completely dire. Keep calm, know what options remain available to you and take action quickly. If you do nothing about the eviction notice, you will find yourself being thrown out of your home.
Know the Facts
Once you receive the eviction notice, figure out exactly what situation you face. Many tenants do not know a few different kinds of eviction notices exist. The "Pay or Quit" notice tells the tenant that he must pay the rent he owes or be forced out of the dwelling. Even if a tenant pays his rent on time and in full, he may still receive the "Cure or Quit" notice. A landlord can attempt to evict his tenant if the tenant violates the contract, such as by keeping a pet or playing very loud music frequently, unless he stops the behavior. An "Unconditional Quit" notice does not give the tenant recourse. This type of notice will be given when a tenant has not paid his rent for a long period of time, repeatedly violated the lease or engaged in illegal activity.
Legal Steps
Eviction involves a legal process that can be difficult, but not impossible, to stop. Unless the tenant has received an Unconditional Quit notice, he still has legal recourse. The tenant can go to court to file an "Order to Show Cause." This order will temporarily stop an eviction. A tenant will file this order when he believes the court has overlooked certain evidence, or new information arises that will change the outcome. If the judge approves the order, the tenant then needs to serve the landlord with the papers.
Free Legal Aid
If tenants need to go to court, they can turn to one of the free legal aid clinics that exist across the country. The lawyers can even advise the tenant on what steps to take before the case even goes to court. Legal aid lawyers possess the exact same qualifications as a lawyer working in the private sector. To find a free legal aid clinic, contact the state bar association.
General Assistance
Many counties provide temporary financial assistance for those unable to pay their rent. In order to qualify, candidates must pass a means test, meaning they earn less than a certain amount per month. Financial assistance varies from municipality to municipality. Tenants in need of general assistance should contact their county's Department of Health and Human Services. If the tenant proves ineligible, the department might be able to refer them to another service or organization.