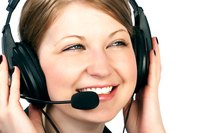 Customer involvement is critical to the success of most small businesses. Unlike large companies, which can mass-produce a product and distribute it far and wide, as a small business owner, you will most likely have to build your company one customer at a time. On the one hand, you have to work hard to reach out and earn customer loyalty. On the other hand, you have the chance to build long-standing relationships with the folks who support your endeavors.
Get to Know Your Customers
As a small business, you have a competitive edge over large companies when it comes to putting a face on your product or service. If you get to know your customers -- their names and their preferences -- you provide them with an opportunity to get involved with your company as well. By getting to know you, they become personally invested in your success. They not only use your product or service because it is useful to them, they also support your company because they care about your well-being.
Customer Feedback
Your company depends on meeting your customers' needs. You have the best chance of meeting these needs if you have a clear idea of what they are. You can learn about who your customers are and what they want by simply asking them. This quest for information can take the form of a formal survey, either written or oral, or you can informally ask your customers' opinions about a product or service you are considering introducing or how to improve your existing offerings.
Rewards Programs
Increase customer involvement with your business by offering customers an incentive to use your products or services on a regular basis. If you own a coffee shop or restaurant that features a particular item, offer customers punch cards that they can redeem for free items once they have purchased a certain amount. If your business provides a service, offer a discount to customers who use this service multiple times or over a period of time. These strategies promote customer involvement by creating ongoing relationships with businesses.
Events
Sponsor events for your customers that bring them into your place of business and provide you with an opportunity to get to know them better. If you own a wine shop, organize periodic wine tastings; if you own a coffee shop, stage a monthly meet and greet event where you can get to know your regular customers.