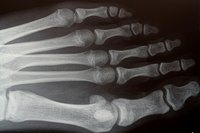 New Jersey X-ray technicians, who also go by the longer names of radiologic technologist or radiologic technician, don't need super vision powers to perform their jobs – they train to interpret radiographs/medical films that give insight into the body through the skin. X-ray technicians adhere to medical standards to protect patients from radiation and may work with computed tomography and magnetic resonance imaging along with X-rays. X-ray techs in New Jersey earned at a higher rate than the country's average.
Facts
Across the country, X-ray technicians earned an average salary of $54,180 per year in 2009, according to a wages survey by the U.S. Department of Labor's Bureau of Labor Statistics. New Jersey's approximately 6,700 X-ray technicians fared better than their colleagues in the United States, earning an annual median wage of $62,520, which is $8,340 higher than average.
Ranges
Although not all of New Jersey's X-ray technicians earned at or above the national average, even those in the Garden State's lowest 10th percentile of earners took in close to the country's 50th percentile, with an average of $47,380. On the opposite end of the scale, New Jersey's highest-earning X-ray technicians earned an annual mean wage of $81,480 per year in the 90th percentile.
Considerations
X-ray technicians usually start the path to earning their salaries by enrolling in one of the Joint Review Committee on Education in Radiologic Technology's hundreds of college programs. Sixteen accredited schools offer certificate and associate degree programs in New Jersey, including Middlesex County College, Mercer Country Community College, Brookdale Community College, Valley Hospital and Cumberland County College. Prospective X-ray technicians may also seek voluntary American Registry of Radiologic Technologist credentials.
Outlook
The U.S. Department of Labor's Bureau of Labor Statistics projects a 17 percent increase in employment of X-ray technicians through 2018, adding 37,000 jobs across the country. The BLS recommends candidates study multiple forms of diagnostic imaging to have the most qualifications. The BLS also suggests prospective X-ray technicians explore opportunities in rural and low-income areas of New Jersey, which may be underserved with qualified applicants.