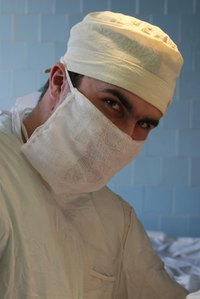 When weighing the pros and cons of becoming a surgeon, a person should also consider their personalities. Though a great deal of effort goes into becoming a surgeon, the rewards are considered more than enough compensation; however, this shouldn't be the only motivation. Candidates should have a genuine interest in other people and a real desire to help them.
Exhaustive Education
Surgeons must complete 11 to 16 years of education to become independent in their professions, according to the U.S. Bureau of Labor Statistics. Four of those years are spent in undergraduate school, another four are spent in medical school and the remaining time is spent working another physician as a paid resident. Medical school also is very difficult to get into. A candidate must have good grades, letters of recommendation, pass the Medical College Acceptance Test (MCAT) and have an upstanding and moral character.
Student Loan Debt
Medical school isn't cheap. A study in 2007 revealed that nearly all medical school graduates still are in debt for their courses, says the U.S. Bureau of Labor Statistics. Harvard students pay $45,000 a year in tuition and fees, according to the school's website. The average debt a student graduates with is $103,000, though some students report debts as high as $250,000 upon graduation.
Unpleasant Experiences
Surgeons are under pressure to excel because the alternative could mean costing another person their life. They must possess emotional stability and stamina. They also must be able to accept the consequences of making errors and understand the impact their decisions will have on others.
Excellent Income
In 2010, general surgeons reporting making as much as $286,000 a year on average, according to wage information gathered by PayScale. This income amount is considered much higher than average, and is further increased when a surgeon specializes in a certain field. For instance, bariatric surgeons, or those who specialize in weight-loss surgery, report earning as much as $450,000 a year.
Good Benefits
Nearly all surgeons in 2010 reported receiving medical insurance. Of that number, more than half are receiving dental benefits, and 43 percent are receiving vision care benefits, according to PayScale statistics. Only 10 percent aren't receiving insurance, and this figure is likely attributable to self-employed surgeons who are just beginning their careers.
Good Job Prospects
Surgeons don't have to fight to find work. In fact, an expected job expansion of 22 percent is predicted through the year 2018, according to the U.S. Bureau of Labor Statistics. Most surgeons and physicians work in metropolitan areas, meaning there is a great need for skilled surgeons and doctors in rural areas.