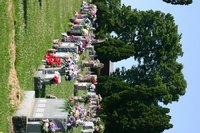 Unfortunately, the time has come for you to file a life insurance claim. Because you are likely grieving the loss of a loved one, even the promise of the financial benefit may not be enough to make you want to do this. Nonetheless, your loved one bought this policy to provide for you after his death, so you're now accepting his generosity when you need it the most.
Proof of Death
Life insurance companies provide financial benefits to families in need when their customers die, but despite this goal, they still do not want to part with money unless they have to. When you file a claim, the insurer will conduct an investigation that includes verifying the insured person's death. It will also investigate the circumstances of the death to ensure that it qualifies for benefits under the policy. You must provide acceptable proof of death to receive the benefits.
Acceptable Proof Varies
Each insurance company is generally allowed to set its own guidelines for what constitutes acceptable proof of death, as long as its guidelines are not in violation of state law. Therefore, if you must file claims with more than one insurance company, you may need different forms for each, even if both were issued in the same state. The agent for each policy should be able to advise you as to what the respective insurance company needs to process its claim.
General Guidelines
Most of the time, insurance companies will accept a certified copy of the official death certificate on file in your loved one's county. You can be relatively certain this will meet the insurer's criteria. If, for some reason, you cannot obtain this form, then insurers will sometimes accept police reports stating the person has died, coroner's reports attesting to death or even statements from licensed funeral directors. The general rule is that insurers want verification from someone qualified to attest to death and who would be able to identify the person in question.
Time Frame for Settlement
According to InsuranceProviders.com, a standard time frame between initial filing of a claim and receipt of the benefits is approximately two weeks, though each insurer has its own claims handling procedure, so the timing may vary. If the investigation does not go smoothly, the benefit may be delayed. Therefore, submit all proof of death forms and all required information to the insurer as soon as possible to minimize the chances of delayed settlement. Many states require life insurers to pay interest on the benefit if they delay payment unreasonably.