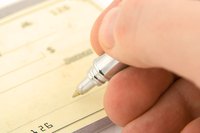 Employers with W-2 employees must comply with federal payroll tax rules. They must regularly deposit amounts withheld from workers and file quarterly returns to reconcile deposits and wages paid. Owners of corporate or LLC business structures are also W-2 employers and included in the IRS payroll process.
Amount to Deposit
Each time you issue payroll, you will deduct Social Security, Medicare and income taxes from your employee's pay. You will base tax calculations on the gross earnings of each worker. You split the cost of Social Security and Medicare taxes with your employee. This means you withhold half of these taxes from the employee's check, and you pay the other half. You must include any federal taxes withheld from paychecks, plus your company match, in your federal tax deposit.
Deposit Frequency
Most companies must make payroll tax deposits on the 15th of each month. The deposit must account for all payrolls issued in the previous month. Businesses with employees are automatically on an initial monthly depositor status. The IRS will notify you to deposit more or less frequently depending on the size of your tax deposits. For example, businesses that deposit more than $50,000 in a payroll period must deposit semi-weekly, and businesses that deposit less than $2,500 annually are required to deposit once per year. If you meet the requirements to change deposit frequency, continue to deposit monthly until the IRS notifies you that your deposit status has changed.
Payroll Tax Returns
Each quarter, you must file IRS Form 941, the Employer's Quarterly Federal Tax Return. This return summarizes your payroll activity for the quarter, including gross wages paid and taxes withheld. If you made all your monthly deposits on time, you shouldn't owe additional tax when you file the return.
Federal Penalties
The IRS will impose penalties if you make late deposits or do not file your return on time. Additionally, if you own a business and do not make payroll tax deposits, the IRS can eventually hold you personally responsible for the trust fund portion of the tax. The trust fund portion includes all amounts withheld from employees' checks, but not paid to the IRS. It does not include the company matching amounts for Social Security and Medicare.