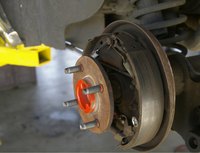 Automotive service technicians perform routine maintenance and do repairs on cars and light trucks. Employment outlook should be good through at least 2018 for technicians with formal training in automotive repair and who have professional certification, according to the U.S. Bureau of Labor Statistics (BLS). Starting salaries are low, but automotive technicians can make good money with experience.
Job Features
Automotive technicians repair and replace vehicle parts such as the exhaust system, alternators, brake systems and steering and suspension. They also do oil changes and other routine maintenance. Automotive technicians must be able to use computerized equipment because of increasing specialized technology in vehicles. They also must have skills using the traditional tools of auto mechanics.
Salary by Experience
As automotive technology becomes increasingly high-tech, many employers prefer job applicants who have completed formal training either in high school or in a technical school or community college. Automotive technicians in large urban areas typically need professional certification from the National Institute for Automotive Service Excellence, which provides the ASE credential. Median starting pay for automotive technicians as of December 2010 was $8 to $12.30 per hour, reports the PayScale salary survey website. Salary increases a great deal with experience, as automotive techs with five to nine years of experience earn in a median range from $13.80 to $20, and those with 10 to 19 years experience in a median range from $15.40 to $23 per hour.
Salary Range
Average salary for automotive technicians as of May 2009 was about $18.20 per hour or $38,000 per year, shows the BLS. The middle 50 percent of those on the earnings scale were making about $12.50 to $22.70 per hour, with the top 10 percent earning over $28.80 per hour, or over $59,000 per year. Dealerships and positions with local government pay about $43,000 to $44,600 per year on average.
Potential
A small number of automotive technicians work in aerospace products and parts manufacturing, which is the highest-paying opportunity for these workers, indicates the BLS. Automotive techs in this industry earn about $32 per hour or $66,300 per year on average. Other lucrative opportunities include courier and express delivery services paying about $29.70 per hour on average, natural gas distribution companies at about $28.30, scientific research and development firms at about $27.60, and wired telecommunications carriers at about $26.80 per hour on average. Automotive technicians in Alaska have the highest average pay in regard to geography, at about $23.70 per hour or $49,400 per year. Techs in Connecticut, Maryland, Massachusetts and Washington D.C. average $20.50 to $21.50 per hour.