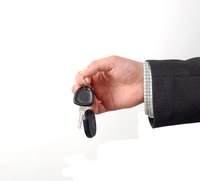 When buying a new car, you may be faced with a choice of taking a cash rebate or getting a 0 percent interest rate on your car loan. Both of these options can be attractive, but one might work out better for you depending on the circumstances. Considering the long-term savings and whether you even qualify can help you in your decision.
Crunching the Numbers
To help you with this decision, you need to look at the numbers of the deal. Look at the total rebate in relation to the savings that you would realize from the low interest rate. Compare how much you would have to pay in interest with the rebate to how much you will save with the 0 percent interest rate. One option should provide you with more savings than the other.
Qualifications
Even though the auto dealer might advertise that you can choose between a rebate or 0 percent interest, this may not be the case for everyone. Most of the time, you have to have a stellar credit score before you can qualify for 0 percent interest financing. If you do not have a very high credit score, you may only qualify for a higher interest rate. If this is the case, it would most likely be to your advantage to take the rebate.
Outside Financing
Another option that you may want to consider is financing your automobile purchase through an outside lender. You may be able to take the cash rebate from the dealer and finance the entire purchase from a traditional bank. With this option, you might be able to get a very competitive interest rate and get to take advantage of the cash rebate as well. The interest rate will not be 0 percent, but it might be cheaper than what you could get through the dealer without great credit.
Negotiation
Even though the car company wants to make you think that you can only choose between the two options, you may be able to negotiate better terms. For example, some car companies will actually combine cash back rebates with 0 percent financing, depending on how badly they want to sell cars. You also need to work on negotiating the best possible price for the car to begin with. If you pay more than you should for the car, the rebates will not be as meaningful.