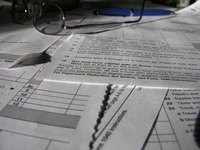 Death may relieve you of most of your obligations, but not the debt you owe to Uncle Sam. When you die, the person appointed to take care of your remaining finances, called the executor or the administrator, will be responsible for filing your final tax return, determining whether your heirs and beneficiaries will have to pay estate taxes, and finally paying off any unpaid debts -- including taxes -- out of the assets you left behind.
Your Final Tax Return
If you would have been required to file a federal income tax form, or 1040, if you were alive, your executor will have to file it for you after you die. Your last 1040, due with everyone else's on April 15, will include all your income from Jan. 1 of the previous year until the day you died and will be taxed at the same rate as if you were alive. If you have a surviving spouse, he or she can file a joint return as if you were alive, including your income and deductions until the time of your death and all of your spouse's income and deductions for the entire year. If you accrued medical expenses during the final year of your life, your executor can deduct the bills that you paid along with all the unpaid bills, as long as they exceed 7.5 percent of your gross income. All the remaining income taxes will be paid out of the assets you left when you died, known as your estate.
Estate Taxes
In addition to your income tax, your remaining assets will also be subject to taxes. Income generated by investments you left behind will be taxed every year after it surpasses $600. The executor of your estate will be required to declare this income on a special tax return, called a 1041. One way to bypass these taxes is to set up a legal arrangement that will make your estates bypass probate and go directly to your surviving spouse or heirs after you die. Estates worth over $5 million -- or $10 million for couples -- will also be subject to federal estate taxes as of Jan. 1, 2001. This "death tax," which temporarily expired in 2010, could levy as much as 55 percent on assets you leave behind.
Back Taxes
Your death will not free your loved ones from your unpaid back taxes. If you have a spouse, he or she will inherit all your tax debt, even if you didn't tell them about it. Likewise, your descendants or heirs may have to pay your debts out of any assets you leave behind. The IRS can seize an estate to pay for back taxes or take action against an heir who spends the money without settling your debts with Uncle Sam.
State Taxes
As of the end of 2010, if you live in one of 21 states or Washington D.C that have their own estate or inheritance taxes, your assets will be levied state taxes in addition to what is required by the federal government. Typically, these taxes kick in on estates that are worth $1 million or over and carry a top rate of 16 percent, according to Forbes.com. Your executors will also have to file state income tax forms for you and pay any outstanding and back state taxes from your estate.