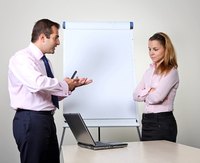 The first published mention of the term employee engagement occurred in 1990, when William Kahn of Boston University published his paper "Psychological Conditions of Personal Engagement and Disengagement at Work" in the "Academy of Management Journal." Since that time, the topic has been extensively debated, researched and written about, including its definition and components, what drives it and its importance in business.
Employee Engagement Description as Definition
Defining employee engagement has not been easy. In many instances, words such as satisfaction, commitment and motivation have been used interchangeably with the term engagement, leading to confusion and debate. In addition, employee engagement is often defined in terms of observable behaviors and organizational benefits. Researchers Beverly Little and Philip Little at Western Carolina University summarized the behavioral and benefit-based definitions. For example, some researchers defined it as a positive attitude, while others defined it as how employees connect with customers and still others as employee confidence, integrity, pride and passion.
Formal Definition of Employee Engagement
In 2006, the Conference Board, a nonprofit business leadership consulting service, conducted an extensive review of the research literature on employee engagement. It developed a blended definition of employee engagement that incorporates the recurring themes identified in the literature. According to the Conference Board, employee engagement is "a heightened emotional connection that an employee feels for his or her organization, that influences him or her to exert greater discretionary effort to his or her work."
Components of Employee Engagement
The three components of employee engagement are cognitive, emotional and behavioral. The cognitive component reflects workers' thoughtful, pragmatic approach to the job. It is seen as mentally stimulating on a day-to-day basis, and there are opportunities for career advancement and development. An emotional bond with the organization is another component of employee engagement. Workers have positive feelings about and a sense of commitment to the company, their manager, department or team and their work. The behavioral component is marked by high productivity and work quality, along with fewer absences and interpersonal conflicts, when compared to peers.
Drivers of Employee Engagement
The Conference Board identified eight key drivers of employee engagement. These drivers help managers and organizations identify areas on which to focus employee engagement development activities. These drivers include trust and integrity, the nature of the job, line-of-sight alignment of employee performance with organizational performance and career path opportunities. Drivers also include pride in the company, influence on coworkers and team members and the employee's relationship with the direct manager.
Benefits of Employee Engagement
Another study, published in 2006 by ISR Global Research, brought a greater sense of urgency to the employee engagement discussion. Simply stated, employee engagement affects a company's bottom line. Companies with high levels of employee engagement do better financially, reducing costs and increasing profits, compared to companies with low levels of engagement. The ISR study also reported that net income growth was 13.2 percent in one year for companies with high levels of engagement, compared to 3.8 percent for companies with low engagement levels.