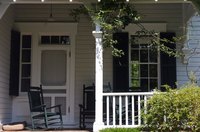 Home equity lines of credit (HELOC) can give you immediate access to thousands of dollars in revolving credit, like a credit card. As with any loan with your home as collateral, if you cannot make your payments, the loan goes into default and you could end up losing your property. Negotiating with the HELOC lender could prevent foreclosure in the short-term, but you will eventually have to repay the loan.
Identification
If you cannot make any more payments on your HELOC loan, the creditor will probably sue you rather than foreclose, according to HELOCBasics.com. If the HELOC lender forecloses, the mortgage provider will receive money first and the HELOC lender also has to pay the costs of the foreclosure. Foreclosure could end up costing the HELOC lender more money than if it pursued a judgment to garnishee your wages or bank account.
Considerations
As of 2010, 12 states consider mortgages non-recourse loans, but HELOCs usually count as a recourse loan. In a non-recourse loan, the mortgage lender cannot come after any deficient balances after foreclosing on a home. If a HELOC creditor forces forecloses, you must repay the balance on your HELOC account. A few states, such as California, consider secondary mortgages like HELOCs a non-recourse loan. The HELOC lender may forgive some or all of your loan if it feels it will lose money on your account by pursuing legal action. If the HELOC company offers to write-off the rest of your loan, the IRS will consider this taxable income.
Other Possible Outcomes
Sometimes, the HELOC provider will try to purchase your primary mortgage to force a foreclosure and receive the most money possible for the secondary loan, according to HELOCBasics. The HELOC provider could negotiate with the primary mortgage holder to force you to short-sell your house—selling property for whatever it will bring on the open market, which will be less that what's owed. Most HELOCs, however, require a cash incentive worth a few thousand dollars to go along with a short sale because the HELOC provider is much more likely to lose money than the primary mortgage holder on a short sale.
Tip
You may need a lawyer to help work out the best course of action for your delinquent HELOC. State laws vary on real estate sales. Some states, for example, do not allow short sales. Bankruptcy could be an option in some cases.
You should contact the lender about your personal circumstances. For short-term disasters, such as an injury, the lender may allow you to delay payments.