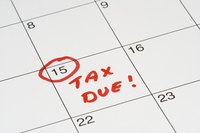 Individual Retirement Accounts offer substantial tax benefits by allowing money in the account to grow tax-free. A traditional IRA also offers a deduction for contributions, while a Roth IRA provides tax-free qualified distributions. However, you're limited to how much you can contribute each year. If you miss the deadline, you aren't allowed to make up for it by contributing extra the following year.
IRA Contribution Deadline
You can make your contribution to an IRA as late as the tax filing deadline for that calendar year, generally April 15. Even if you file for an extension, you don't get extra time to make your IRA contribution. The automatic extension you're allowed for filing your tax return pushes the deadline for filing back six months, but that only applies to how long you have to file -- not to pay taxes owed, or to deposit money in your IRA for the prior year.
Contributions for Prior Years
Contributions made between Jan. 1 and the tax filing deadline can count for either year, so if you make a contribution during this time, make sure to designate which year you want it to count for. Otherwise, the IRS can assume it's for the current calendar year.