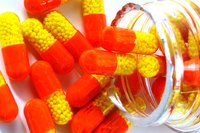 Being successful in pharmaceutical sales takes more than just a degree. Being a people person and a good communicator are both absolute requirements. If you've got these traits along with an aptitude for science, the job could be a fit for you. Pair your personality with a science and marketing-based education and you'll be well on your way to achieving your career goals.
Job Responsibilities
Pharmaceutical sales reps spend a lot of time meeting with doctors and pharmacists to explain the benefits and risks of new drug offerings. Building relationships with prescribing doctors is important. It makes them aware of new treatments available for their patients and how these drugs differ from current offerings on the market. According to the Bureau of Labor Statistics, sales professionals also monitor competitor activity, prepare sales reports and attend trade shows and conventions to keep up with market developments. By taking this information back to the company, sales reps help drug manufacturers decide where to focus their research and development efforts.
Why a Science Degree Helps
For sales representatives in general, no specific education is necessary, but professionals with an interest in pharmaceutical sales benefit from a strong science background. Most pharmaceutical companies prefer four-year college graduates with scientific knowledge. Although most companies put their sales reps through rigorous training about the drugs they offer, starting with a science foundation makes this orientation easier and helps reps to speak the same language as health care professionals.
Consider a Minor in Marketing, Business or a Second Language
Although studying science is your best bet, if pharmaceutical sales is your goal, a double major or minor in business or marketing will prepare you for work in the business world in ways that a science degree alone can't. Courses in economics, marketing and communication will help you to understand business goals, brainstorm sales strategies and find out what drugs patients need and want. Becoming proficient in a second language also will boost your employability. If you're having trouble deciding which language to learn, look up some drug manufacturers and their international office locations.
Other Qualifications
Many sales professionals hold either a Certified Professional Manufacturers Representative or Certified Sales Professional designation, both of which are offered by the Manufacturers' Representatives Educational Research Foundation. While the CSP credential is more for beginning sales reps, CPMR training has a high-level executive focus suitable for aspiring sales and marketing managers. Although you can complete either of these training seminars on your own before you snag a spot in sales, many companies will pay for professional development. You may be able to take one or both of these programs at your employer's expense after you've secured a job.