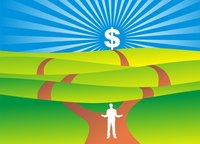 Guaranteed investment certificates, or GICs, and mutual funds are investment vehicles designed to grow your savings to help you meet financial goals. GICs, Canadian investments known as certificates of deposit in the United States, are attractive because they offer guarantees on your principal and interest, and offer a known rate of return when you make your investment. Mutual funds provide the opportunity for greater returns.
GICs
GICs are sold by banks and traditionally are considered safe and conservative investments. The principal and interest are guaranteed by the selling bank, and they are guaranteed by the Canadian Deposit Insurance Company up to $100,000. (In America, they are guaranteed by the Federal Deposit Insurance Company up to $250,000). When you purchase them you know what your return will be. GICs are subject to inflation risk. To maintain the value of your investment, you must earn at least the rate of inflation. This is hard to do in low interest rate environments. GICs grow your money the fastest in tax-deferred plans such as Registered Retirement Savings Plans (similar to a 401(k) plan in the United States), Tax-Free Savings Accounts and Registered Education Savings Plans. This is because they can grow tax free. You only pay tax when you withdraw the funds.
Mutual Funds
Mutual funds pool money from a number of investors to create a diversified portfolio. This provides the small investor with the opportunity to reduce risk while increasing returns. You can purchase mutual funds that specialize in stocks, bonds or both. Unlike GICs, neither your investment nor the return you will earn is guaranteed. Mutual funds have a wide range of choices for how you want to invest your money, including small cap stocks, blue chips, stocks in other countries, government bonds or high-yield bonds.
Fees and Expenses
Mutual funds have fees associated with them that should be carefully understood before purchase. A GIC typically does not. When you purchase the GIC, the interest you earn does not have fees or charges deducted. Mutual fund fees include a management fee for the services of a professional portfolio manager, and fees for other administrative expenses of the fund that include regulatory filings, customer statements and accounting. Mutual funds may also have a load, which is a commission fee applied at time of purchase or sale. Mutual fund fees are fully disclosed in a fund's prospectus.
Liquidity
Both mutual funds and GICs can present liquidity problems. Liquidity is being able to access your money when you want. GICs may not allow you to access your funds prior to maturity. Or, they may have fees and penalties associated with early withdrawal. Mutual funds allow you to access your money when the markets are open, but because the value fluctuates you may be forced to sell at a loss. Mutual funds may also have loads applied when you sell, especially in the first few years. Money market funds tend to be highly liquid investments, but as a result have a lower expected return. The liquidity issues inherent in GICs and mutual funds aren't necessarily bad, but they do need to be taken into account when developing your investment and financial strategy.