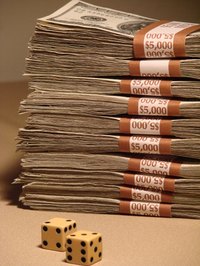 Term life insurance provides death benefit coverage of an insured individual's life over a term of one year to 30 years. Unlike cash value insurance policies, a term policy has no monetary value before the death of the insured. As of January 2011, premiums of life insurance policies for healthy, nonsmoking individuals typically cost less than $1,000 per year, according to "The Wall Street Journal." Financial planners generally advise investors to purchase low-cost term life insurance.
Premiums
Calculation of term insurance premiums considers the insured's age, health status and desired length of the policy term according to "Suze Orman's Financial Guidebook: Put the 9 Steps to Work." Individuals and families purchase term insurance to protect against unlikely mortality--just in case. Quotes for renewable term insurance increase every year. Level term policy premiums remain level for a period such as five years or 10 years prior to an increased premium.
Comparison
According to financial books author Dave Ramsey, 70 percent of life insurance purchasers select cash value over term insurance. Cash value insurance combines a savings plan and life insurance. The insured's costs to purchase cash value insurance substantially out-pace term insurance premiums. "The Wall Street Journal" provides an example of a 40-year old male purchasing a $1 million cash life insurance policy. The insured pays premiums of $17,750 per year. The policy increases in value each year due to premium payments and the insurance company's interest paid on the premiums. The policy's value at year three equals $50,762. By year 20, the policy reflects a 3.8 percent annual return and has $518,068 in cash value. The insured may borrow his own money from the policy.
Considerations
The purchaser of cash value insurance pays substantially for the privilege of a modest annual return on premiums. The cash accumulation and return of the cash policy appear attractive when the insured can't generate annual returns of more than 3.8 percent on investments. For that reason, Ramsey recommends term life insurance. He recommends deploying capital with the ultimate goal of "self-insurance." That is, the investor with substantial assets and no mortgage leaves survivors with few material concerns.
Policy Term
MSN Money writer Ginger Applegarth analyzes term life and other forms of life insurance in "Term or Permanent Life Insurance?" Applegarth reports that purchasers of term life insurance may pay steeply accelerating premiums in a policy of more than 10 years' duration. Compared with level payments of a whole life or cash value policy, the term buyer doesn't achieve a financial result unless he dies while the policy is in force. Applegarth concludes that if you need life insurance coverage for 10 years or less, term insurance's costs and benefits outweigh other varieties of life insurance.