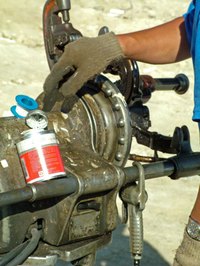 While some homeowners keep a plumber's business card ready in case of emergencies, businesses and industrial organizations use the services of pipefitters. Pipefitters are skilled professionals tasked with installing and maintaining piping systems that work toward cooling, heating and generating electricity. In Indiana, pipefitters earned salaries just over the national average.
Facts
In 2009, pipefitters across the country earned an average salary of $49,870 per year, according to a report by the U.S. Department of Labor Bureau of Labor Statistics. Salaries for the approximately 10,690 pipefitters in Indiana (as of May 2009) compared favorably to the rest of the country, with an annual median wage of $50,160, $290 above the country's mean.
Ranges
Although Indiana's state average for pipefitter salaries was in line with the rest of the country, actual pipefitter wages were all over the chart. Indiana's top-earning pipefitters received salaries of $79,080 per year, while lowest-earning pipefitters averaged $30,620 per year.
Considerations
Prospective pipefitters have a number of ways to enter the field. Training is available through community colleges and technical schools. Another option is to learn on the job through an apprenticeship with an organization such as the United Association of Journeymen and Apprentices of the Plumbing and Pipe Fitting Industry of the United States and Canada, with chapters in Evansville, South Bend, Terre Haute and Indianapolis.
Outlook
The U.S. Department of Labor Bureau of Labor Statistics projects an overall growth of 15 percent for the field of pipefitting, adding 75,800 jobs through 2018. The BLS suggests pipefitters in Indiana familiarize themselves with "green building" and "green technology" for the best chances at securing salaries.