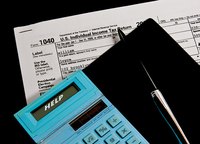 The IRS has a very public due date for when taxes are due for the year. Taxes are due on April 15, unless that date falls on a weekend. If this is the case, the IRS will determine what day taxes would be due. The IRS realizes that some people can't pay all their taxes by April 15, and has multiple programs to help taxpayers pay their bills. They will offer advice to the taxpayer if he is willing to pay, however, if they feel the taxpayer is not willing to take necessary steps to pay his bill, they can and will take further action.
Paying Taxes After April 15
If you are not able to pay your taxes for the prior year by April 15 of the current year, and have filed your taxes with balance due, you will receive a bill from the IRS called Notice of Tax Due and Demand for Payment. It will include any taxes due as well as any interest and penalties due to the IRS because of the past-due balance.
If You Don't Attempt to Pay
If the taxpayer makes no effort to make payments to the IRS, they can ask that the taxpayer sell or mortgage properties or take out a loan. If the IRS determines that no action will be taken or is currently being taken to pay taxes due, the IRS can start further collection procedures called Enforced Collection Actions. These can include a Notice of Levy on salary, property or other accounts.
Extended Payment Period
If you are unable to pay your taxes in full, you can call the phone number listed on your tax bill. By calling this number, you may be able to get approved for a 60- to 120-day extension to pay your tax bill in full.
Installment Loans
If you know you will not be able to pay your taxes within 120 days, you may be able to qualify for an installment loan. If you owe less than $25,000, you can use the Online Payment Agreement or call the number that is listed on your bill. You can fill out IRS form 9465 and send it to the address on your IRS bill as well. If you owe more than $25,000, you can still qualify for an installment loan, however, you would fill out IRS form 433F in addition to form 9465 and send them to the address on your IRS bill.
Financial Hardships
If the IRS determines that you have a financial hardship, they may delay the collection activities to retrieve these funds. Your balance due will still continue to incur any interest and/or penalties.
Loans or Credit Card Advances
Depending on the interest rates you are able to get based on your credit history, using a cash advance on a credit card or taking out a personal loan may save you money in the long run and enable you to pay the IRS in full by the April 15 deadline. As of August 15, 2010, the IRS states that installment loans will incur interest at a 5 percent annual rate, as well as a 1 percent monthly fee for failure to pay. Based on IRS calculations, a personal loan of $10,000 at a13 percent interest rate for 36 months would be cheaper than entering in a 36-month installment loan through the IRS.