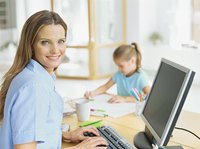 Since minor children cannot legally sign contracts, parents or legal guardians are required to be joint account holders on a child's savings account. You can add a child to your savings account or open a new account with your child. There are some accounts specifically designed for children, but you are still legally responsible for the account.
Basic Requirements
A parent, grandparent or a legal guardian can open a joint savings account with a child. There are no minimum age requirements to be listed on a savings account. The bank may require the child to present identification, such as a Social Security card, birth certificate, school identification, passport or immunization record. You'll also need to bring your identification to open the account.
Account Access
A traditional joint ownership account grants you and your child the ability to make deposits and withdrawals while you keep track of the account activity. A minor by account lets the child make deposits, but doesn't allow him to make withdrawals until he reaches 18, unless the account is converted to a joint ownership savings. Once the child reaches 18, your name isn't automatically taken off the account. If you want to remove your name, you'll need to go to the bank to have your name removed.
Tax Liability
As the adult owner on the savings account, you'll usually be responsible for reporting any interest earnings over $10 on your tax return. However, if the child is working and files a tax return as an independent, she can choose to report the interest from her share of the savings on her return.
Risks and Complications
Since you're both listed on the account, you'll be liable for any overdraft or over-the-limit fees. If the child overdraws the account, you'll be expected to bring the account back to good standing. Savings account held with minors aren't exempt from creditors. If you're sued, the creditor could potentially go after the money in the joint savings account.