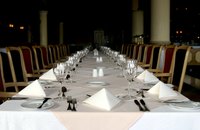 One of the first things you need to determine when starting a restaurant is your target market, according to Entrepreneur.com. For example, you may decide to attract 18- to 34-year-old customers with a fast-food restaurant -- and locate your business in an area where 18- to 34-year-olds work or live. You will also need funds -- your own or from investors -- to start a restaurant. Consider all of your start-up needs to make the best use of your resources.
Wholesale Supplier
Locate a wholesale supplier for your restaurant. Look for wholesalers in your area that sell food, and cleaning and paper supplies. Find a restaurant wholesaler that offers quick turnaround on food and cleaning supplies orders. Select the wholesaler that provides you with the lowest unit costs. To locate a supplier, check business directories, the National Association of Wholesale Suppliers and restaurant trade publications such as "Entrepreneur," "Pizza Marketplace" and "Restaurant Institutes."
Equipment
Price and purchase furniture and equipment. You may need tables, chairs, drink and ice machines, counters, steam cabinets, fryers, dishwashers, walk-in refrigerators and freezers. You may need headsets if you own a fast-food restaurant with a drive-through window. Order menus or a menu board on which you can change prices and menu items. Purchase the appropriate grill and oven for your cuisine.
POS System
Most restaurants use POS -- or point of sale -- to track sales and inventory through the cash register and back office computer systems. A POS system will allow you to effectively manage your food and beverage costs. Employee time clocks are also tied to the POS system and allow you to keep track of hourly labor expenses. Most POS systems include printers to print out sales and expense reports.
Employees
Employees are an essential part of your restaurant business. You may need to hire a manager and assistant manager, depending on the size of your restaurant. You will also need hourly workers to run cash registers, clean the dining area and serve food. In addition, you may need a chef or cook, along with wait staff. Post a "Hiring Now" sign on your front door before you open. Run job ads in your local newspapers or online stating which types of employees you need.