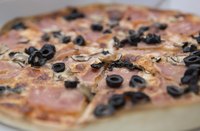 Teenagers and others looking to supplement their income sometimes turn to pizza delivery as a source of extra cash. However, your auto insurance company may frown upon this type of activity and could refuse to cover it. If you can't obtain coverage from the pizza shop, you may have to explore other sources of auto insurance coverage.
Considerations
Most personal-lines auto insurance carriers will not cover a vehicle when it is used for delivery of items like pizzas or newspapers, or when using the vehicle for a messenger or courier service. Not only do they view delivery as a high-risk activity; it also is considered as business use of the vehicle, which is not ordinarily covered under a personal policy. If you're involved in an accident while delivering pizza, there's a good chance your personal-lines carrier will deny your claim and possibly cancel your coverage.
Need
If you want to continue your pizza delivery job and still have auto insurance coverage, your only recourse may be to purchase a commercial-lines policy instead. Commercial auto insurance is designed to cover deliveries or most other types of business use, or whenever a personal vehicle is titled in the name of the owner's business. Unfortunately, the rates for a commercial policy are usually much higher than for a personal policy. In effect, purchasing a commercial policy will reduce your income.
Non-Owner Coverage
If you're lucky, the owner of your pizza shop will offer to cover you under a non-owner policy. This will provide you with liability coverage, which will pay for damages and injuries sustained by others if you are at fault in an accident while on the job. It will not, however, provide coverage for your own vehicle. If your car is damaged or stolen while on the job, you will have to pay out of your own pocket.
Pizza Delivery Policies
Another option is to seek coverage from companies that provide specific coverage for occupations like pizza delivery. These are commercial policies that tailor coverage for delivery occupations as well as specific vehicles like pickup trucks and commercial vans. Some of these policies may allow you to adjust coverages to account for seasonal delivery use, such as for a summer job, while allowing you to switch to cheaper personal coverage during your off-season.