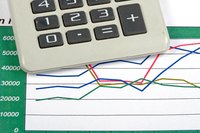 Management consulting firms help companies implement changes to their internal business processes and controls. In addition to helping corporate, government and nonprofit clients manage and respond to rapid market changes, management consultants give clients the tools to launch projects in areas where they lack expertise, knowledge and resources. During the 2008 to 2018 decade, the U.S. Bureau of Labor Statistics "Occupational Outlook Handbook, 2010-11 Edition" projected that management, scientific and technical consulting positions will grow by 83 percent.
Function
Management consulting encompasses a wide range of tools that focus on improving one or all aspects of a business' operations. In addition to augmenting an organization's overall performance, management consultants help clients pinpoint future goals, develop relevant skills, and identify and correct inefficiencies and redundancies. For instance, management consultants that specialize in marketing might assist clients with launching new products; developing competitive pricing to generate sales and maximize profit; and researching information on new and emerging markets. Other management consultant areas include helping firms to streamline their manufacturing and distribution processes by advising on inventory management, quality control, packaging and handling and transportation.
Type
There are generally two types of management consultants: generalists and specialists. Generalists advise clients on areas such as overall company performance, mergers and acquisitions and entering overseas markets. Specialists provide expertise in specific corporate disciplines that focus on the departmental rather than organizational level. For example, a specialist might assist a client with revamping their information technology (IT) systems or reorganizing staff positions in a specific department or business unit.
Job Titles
Management consulting firms include positions such as chief executive officer, vice president, management analysts, sales managers, marketing managers and administrative services managers. Whereas chief executive officers and vice presidents are considered top management and responsible for determining the strategic vision of the firm, management analysts and consultants collect and analyze client data from various sources. Sales and marketing managers develop campaigns to target new clients and provide resources where necessary in the firm. Other departments found in management consulting firms include finance, human resources, IT and accounting.
Outlook
The BLS attributed the sharp increase in management, scientific and technical consulting jobs during the 2008 to 2018 period to projected economic growth. Moreover, business transactions will become extremely complex as companies continue to do business overseas and strive to comply with increasing government regulations and tax laws. Organizations will look to management consulting firms to provide expertise in crafting business plans, financial budgets and marketing strategies that help them stay competitive in the marketplace. Other trends that will fuel job growth in management consulting include the outsourcing of administrative functions and employee tasks, as well as company mergers.