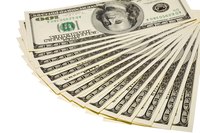 Business owners choose the limited liability company form partly because of the liability protection it offers. However, limited liability company members do have financial responsibility to the LLC and, under certain circumstances, to third parties. The applicable LLC act and a company's organizational documents (articles of organization and operating agreement) define those responsibilities. Specific duties vary among the state laws; the following summary is based on the Revised Uniform Limited Liability Company Act.
Capital Contribution Obligations
LLC owners can contribute capital to the company in the form of cash, property or services. The contribution could also be a promise of future services. An obligation to make capital contributions could be in the LLC's operating agreement or a separate agreement with the company. Some LLCs members plan for future capital needs by agreeing to make additional capital contributions upon the occurrence of a specified event, such as a shortfall in cash from operations or the vote of the members.
Failure to Contribute
A member's agreement to make capital contributions is enforceable by the LLC. Death or disability of a member does not excuse the obligation; the company can pursue the estate of a deceased member to collect an unpaid contribution. In addition to a lawsuit for damages for breach of contract, the operating agreement may provide other remedies. Such other remedies could include forfeiture of a portion of the defaulting member's interest, contributions by the remaining members with dilution of the defaulting member's ownership, or other enforcement mechanisms agreed upon by the members. Section 403 of the Revised Uniform Limited Liability Company Act also allows a creditor that extends credit in reliance on the capital contribution obligation to enforce it.
Wrongful Distributions
A distribution is a payment of cash or property by the company to the members, other than a payment for services or property. LLCs cannot make distributions that make the company insolvent. A distribution is unlawful if, after making the proposed distribution, the LLC would not be able to pay its debts as they become due in the ordinary course of business or its liabilities would exceed its assets. The member who receives the improper distribution can be personally liable to repay the unlawful portion of the distribution. The manager or member authorizing the distribution can also be held liable.
LLC Debts
Generally, the debts of the LLC are solely the responsibility of the company. Members and managers do not become personally liable for LLC obligations solely because of acting as a member or manager.