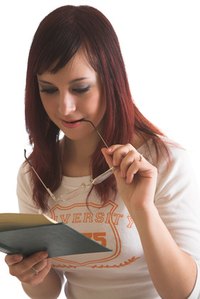 Pursuing a higher education is an expensive venture. Between tuition, books, supplies, room and board, almost anyone in a college or university must take out some kind of student loan to pay for everything. What many students do not know is that they can ask for the standard or maximum amount of student loan principal, even if they do not technically need it.
Process
When filing your FAFSA (Free Application For Student Aid) with Federal Student Aid, there is a standard amount awarded depending on your current pursuit of an associate's, bachelor's or postgraduate degree. Whatever you are awarded you may accept, even if it is more than you need. Another option is to apply for a loan with a financial institution, such as a bank or credit union, which will assess your credit worthiness and need, offering you a loan based on their calculations. Again, if you are offered a loan greater than your financial need, you may indeed accept that amount.
Reasons For
Many students choose to opt for more loan money to put in the bank as a cushion for emergencies, unexpected educational expenses or even to help pay for room and board, allowing them more time to focus on school instead of earning money. In certain circumstances, this can be a wise move. For example, many graduate-level students essentially provide work for free to fulfill course and training requirements. This does not leave much time to earn money outside of school. With a higher degree, such as a graduate degree, the chances of a high-income job after graduation are more likely and will enable easier repayment.
Reasons Against
Accepting more student loan money than you need may provide an easier time while you are in school and studying, but once you graduate you must repay those loans. Higher loan principals mean higher student loan payments. In a bad economic climate when jobs are scarce even for the freshly college educated, higher student loan payments are far from ideal. It is also important to note that student loans stick with you even through a bankruptcy and must be paid back.
Considerations
While you most definitely may accept more student loan money than you need to pay for school, whether that is a financially sound choice depends ultimately on your personal circumstances. The good news is that student loans kept in good standing help improve your credit score and have low interest rates. Federal student loans may also work with you in case of unemployment, temporary disability or other income-altering events so you remain in good standing.