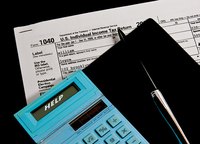 Business structure not only determines tax status and liability limitations, but also when the business must file and pay their taxes and various forms. Knowing what business structure you are operating in will give you the starting point to figuring out the deadlines for your taxes and the supporting tax forms submissions.
Self-Employment
Those who are self-employed or freelance must fill out the Internal Revenue Service Form 1040-ES to estimate their quarterly taxes. These quarterly tax estimates are due on the 15th of each of the fourth, sixth, ninth and first month after your tax year ends. Most self-employed people use the regular tax calendar, making their estimated business taxes due on April 15, June 15, Sept. 15 and finally Jan. 15 for their final quarter.
Partnerships
Most partnerships will pay their business taxes on April 15 with everyone else, since their taxes are due on the 15th of the fourth month of their fiscal year for the previous year. Electing large partnerships is a business structure that requires all partners to submit a Schedule K-1 by the 15th of the third month and their due taxes by the 15th of the fourth month of the fiscal year, typically making it April 15.
Incorporated
Corporations and S-Corporations, much like the self-employed, must pay quarterly estimated taxes on the 15th of the fourth, sixth, ninth and 12th months of the tax year. Many corporations have their own tax year instead of following the calendar tax year. For example, their tax year may go from June to May instead of January to December. Corporations must also file IRS Form 1120 and Form 1120S or Form 7004 as required by circumstances by the 15th of the third month after the end of the corporation's tax year.
Considerations
When a business is determining its business structure, taxes due dates and potential tax deductions are facts to consider. For example, a small business owner deciding between sole proprietorship (treated tax-wise as self-employment) or a partnership, estimated tax payments and the differences in tax deduction benefits will be heavily considered before selecting the structure as these things affect the business' cash flow directly. Also, for those who do not make their estimated tax payments, heavy fees and penalties by the IRS are possibilities.