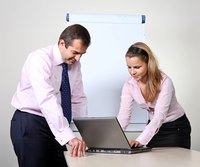 A co-op's board of directors represents and makes decisions on behalf of the co-op by carrying out the duties outlined in the co-op's by-laws. These duties may vary from one co-op to the next, as each co-op has their own bylaws and legal documents that must comply with local state law. Since they frame the relationship between the co-op board and its members, understanding your bylaws and the board's duties may help your co-op build consensus to make decisions that benefit everyone.
Role of the Board of Directors in a Co-op
The co-op is a legal entity owned by a group of members, so its board of directors has a fiduciary responsibility to carry out decisions with honesty and in good faith on behalf of the co-op, not the owners per se. The board's specific duties are outlined in the co-op bylaws, which in turn are circumscribed by the state law that supersedes them. This means, for example, that boards have a duty to call annual elections for the board if state law requires it, even if it isn't explicitly stated in the co-op bylaws.
Common Board Duties
Common board duties include making decisions and sharing information with members by calling meetings and elections, providing regular financial and management reports, and fulfilling members' requests for additional information. Boards represent the co-op in legal and financial transactions, hire employees if necessary, set fees or dues to cover co-op costs, and may even approve the sale or transfer of shares to ensure these are in the co-op's best interest.
Common Officer Duties
All or some of the board members may serve as officers who don't necessarily have more decision-making power or responsibility, but may have more specific duties. For example, a president may have the specific duty to be a signatory on bank accounts or set the agenda at meetings, while a treasurer may be the board member responsible for working with the bookkeeper and a secretary may take and later distribute meeting minutes.
Limits to Board Duties
In carrying out their duties, boards cannot make decisions that benefit them personally -- also known as a conflict of interest -- or contradict the co-op's legal documents, such as the bylaws. If a board believes that one or more of the co-op's legal documents limit their ability to act in the best interest of the co-op, they can propose an amendment to that document as long as it doesn't contradict other documents or the state law that supersedes it. The board must also follow the procedure for amendments outlined in the document itself, which usually includes approval by a certain percentage of members. Co-op bylaws often also allow a group of members to carry out some of the same duties as a board -- for example, calling a meeting where they can make legally binding decisions.