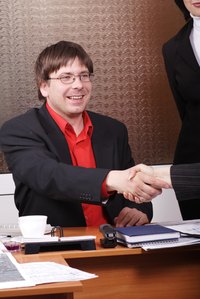 You must be thoroughly prepared for a job interview or you risk making a bad impression on the hiring manager. This is your chance to showcase your talents and skills as well as your reliability. Remember to bring the most common items you should have on hand when going for a job interview.
Resume
You probably have already forwarded your resume to the hiring manager, but if he or she is swamped with interviews, she may not have immediate access to it. In addition, the hiring manager may invite others to the interview, including your prospective colleagues. Having copies ready for them without being asked will show initiative.
Transcripts
If this interview is for your first job out of school, or for a profession such as law, IT or engineering, your academic record may be necessary. In addition, if you are still fairly new in your career and you are interviewing for a job for which you may not have practical experience, your transcripts can display your class work in areas where the employer desires experience.
Portfolio
Always bring samples of your work. A portfolio is not exclusive to creative professionals, such as writers and graphic artists. Be creative and be ready to demonstrate you skills. Have you done a project budget, helped design a website, written a procedure manual or coordinated a proposal? Think hard about how you can visually display your skill set.
Personal Identification
You may be asked to fill out a formal application while on site for the interview. You can help expedite the process by bringing in identification along with your Social Security card, passport, visa or resident alien card to demonstrate your ability to legally work for the company.
References
Bring in a sheet listing at least three professional references. Include their names, title, organization and contact information. Include an email and a phone number where possible.
Thank You Note Cards
Thank you letters following an interview are a must. Write and mail a thank you letter as soon as your interview is done. It will arrive quickly and keep you fresh in the mind of your interviewer.
Good Answers
A less tangible but critical asset in a job interview is a set of well-rehearsed answers to typical interview questions. The interviewer will likely ask you to describe yourself, your goals, your strengths and weaknesses and how you would handle a variety of situations that could arise on the job. A simple formula for your answers is to describe a problem you have encountered, talk through your thinking and how you approached the problem, how the matter resolved and the lessons you learned.
Optional Items
Bring business cards. Doing so will brand your professional image in the mind of your interviewer. Also bring a notepad. Be sure to have in the notepad a list of questions you want to ask and room to take notes during the interview. Some experts also recommend you bring your past performance reviews to demonstrate your strengths and past achievements in a similar position.