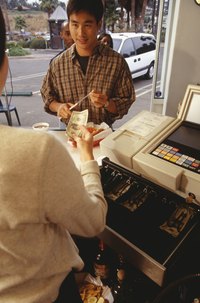 Restaurants typically handle a large amount of cash. Servers, cashiers and bartenders might all collect payment, which introduces several opportunities for someone to misplace or pocket some cash. Establishing and implementing cash handling procedures reduces the chance that money will go missing. Labor costs are a frequent concern for restaurant owners. Even lightly staffed restaurants can design effective procedures that don't impose excessive employee time commitments.
Separation of Duties
The restaurant can always assign different employees to handle money at each stage. Using this method, no single employee will be able to collect cash, record the receipt and review the transaction. How you separate duties will depend on your staff levels. With a larger staff you could have your servers take the orders, a cashier collect the cash, the shift supervisor prepare the deposits and a bookkeeper reconcile the transactions. Smaller restaurants might have servers take orders and collect cash, while the bar and kitchen staff track and report server orders to the manager. The manager can prepare the deposits, and you can reconcile the transactions.
Collecting the Cash
Cashiers and servers typically collect and carry payments throughout a shift. Because diners often tip their servers, it's not unusual for a server to have excess cash at the end of a shift. One employee, such as the manager or shift supervisor, should collect each server's receipts at the end of the sheet based on the tickets that server was responsible for. That money should then be deposited with the bank on a regular basis.
Record the Receipt
Making a record of a customer's bill is already a necessary part of the order-taking process. At many restaurants, the same server takes the order and collects the bill, which could allow the server to pocket a customer's payment and cover his tracks. Making a separate record of that customer's ticket -- such as through the point-of-sale system -- ensures the supervisor cashing the server asks for the appropriate amount. If you have a cashier who takes orders, a policy that gives a free meal to customers who don't get receipts removes the incentive for a cashier to not punch an order.
Review the Transactions
The final opportunity to track down missing money is when you reconcile your transactions and account balances. Deposits from all the servers and cashiers should match the periodic deposit prepared by the manager or shift supervisor. The deposit log should match the deposit on the bank statement. Whoever reconciles the accounts -- such as the owner or bookkeeper -- should not handle cash at any other stage in the transaction.